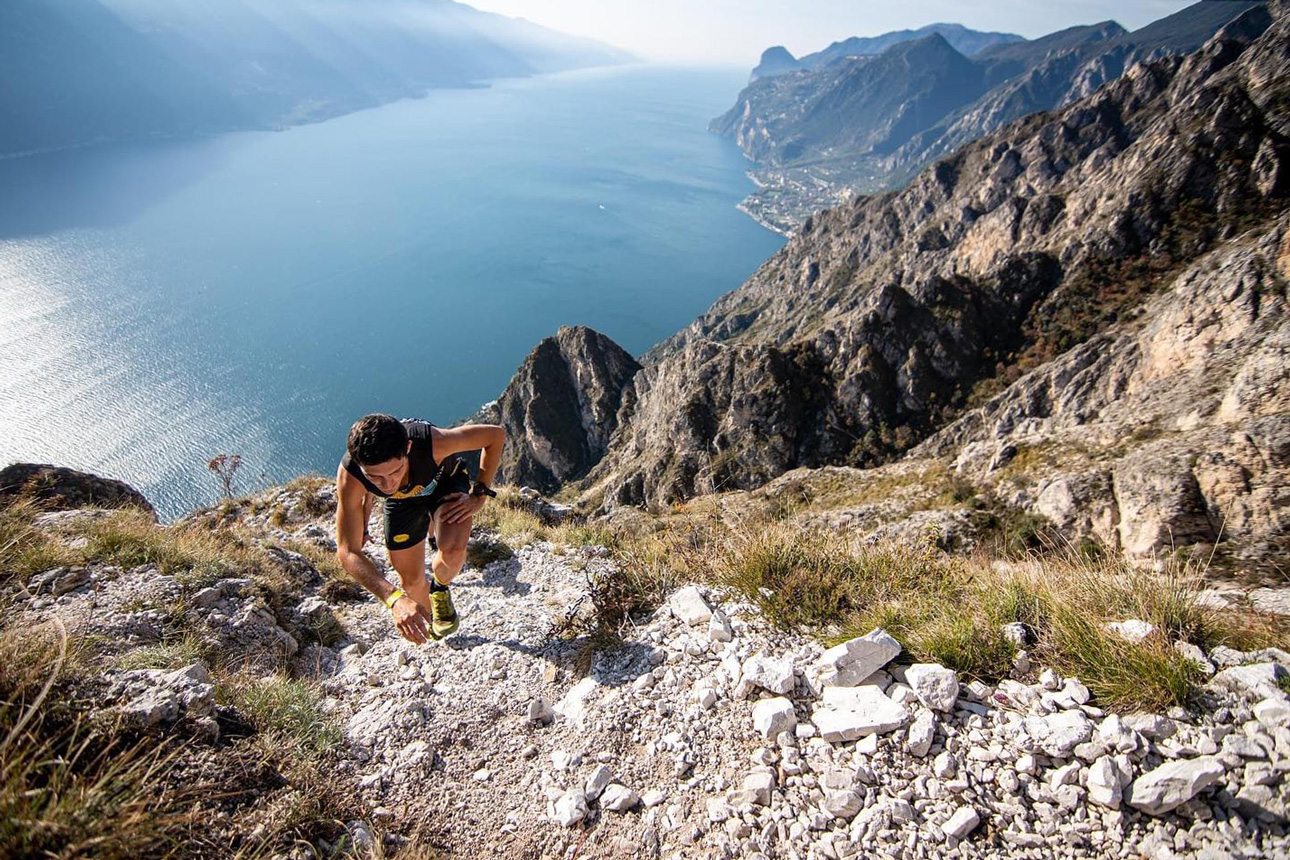 Eleven races, nine countries, the Grand Finale of the 2022 VK OPEN Championships is upon us. The VK OPEN – the International Skyrunning Federation's VERTCAL discipline – was launched just last year and already counts global participation.
The Grand Finale of one of the most popular skyrunning disciplines will take place again in Italy in the spectacular lakeside resort of Limone sul Garda, on Saturday, October 15, 2022, where world titles and prizes will be awarded.
The challenge? The strong competition and the 4 km course with 1,094m vertical climb on the classic Grèste de la Mughera VK towering high above Lake Garda.
In its second year, the VK OPEN expanded outside of Europe, with three races in South America where this short, steep discipline was instantly adopted with great enthusiasm creating a new source of competitive athletes.
The nine countries taking part in the 2022 VK OPEN were: Portugal, Brazil, Chile, Italy, Bulgaria, Peru, Spain, Austria and Montenegro.
Some of the top athletes that took part in the races are Skyrunning World, European and SkySnow medallists, joined by skimo champions and top tier athletes including Patricia Pineda (ESP), Lina El Kott Helander (SWE), Joana Soares (POR), Michele Boscacci (ITA), Pere Aurell (ESP) and Luka Kovacic (SLO).
The Grand Finale is where a fierce battle will ensue with ranking leaders pushing till the last vertical metre to clinch the VK OPEN Championship title and win the €1,000 prize money. The Grand Finale is even more decisive for finalists as it awards double points down to the 40th position. A maximum of three races are counted for the final ranking – two races plus the final.
Belgian Charlotte Cotton is now sharing the top slot of the women's ranking with Slovenian Mojca Koligar. They both have a victory and a second place and this time they will go head to head.
Cotton, third in last year's VK OPEN ranking, commented: "I had a tricky summer wherein I got COVID and twisted my ankle which turned into tendinitis, so I couldn't train as much as I would have liked. I'm delighted to be in the lead in the current standings with Mojca Koligar and excited to take part in the final in beautiful Limone. I'm ready to fight as hard as I can for the VK Open title! As they say no pain, no gain! So bring on that pain! Looking forward to it!"
Koligar, second last year, also took an excellent 10th place in the VERTICAL at the recent 2022 Skyrunning World Championships. "I'll try to do my best and beat my time from last year. I would be really happy if that brings me the VK OPEN Championship title as well! Participating in Skyrunning Championships is always nice, not just a race, but travelling, new places, meeting new people. I found many kindred spirits in the skyrunning world with whom we share the love of the mountains and running," she stated.
The Grand Finale men's race will see two winners face each other: Luka Kovacic from Slovenia and Nicolas Lasen Pingel from Chile. Lasen Pingel raced in two stages in South America, won on home ground and took a third in Peru. With 178 points he is now the ranking leader.
Lasen Pingel expressed his excitement before the race. "Running the VK OPEN final and confronting the world's best specialists was my dream. I can't wait to run and do my best on October 15."
Frenchman Benoît Gandolfi, who was second last year behind Switzerland's Roberto Delorenzi, is again up in the ranking and ready to battle. With two third places he is third in the ranking and has his eyes on the title.
Tune in on Saturday at 10am CET to discover who will win the 2022 VK OPEN Championship.
2022 VK OPEN Championships races