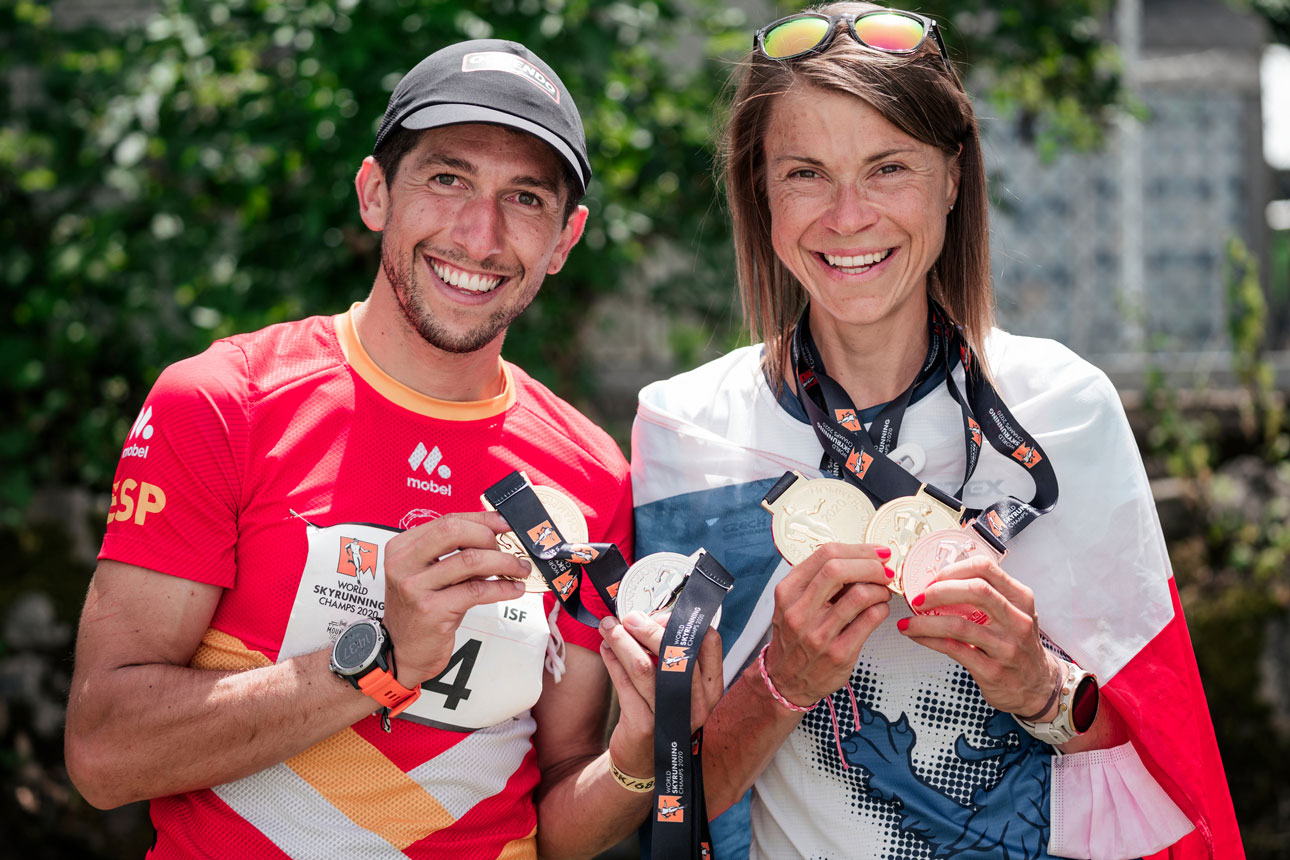 It was a case of 'Less cloud. More SKY' at the final event of the 2020 Skyrunning World Championships celebrated today in the Vall de Boí in the Spanish Pyrenees.
Day three of the events was the turn of the SKY discipline with the Buff Epic Trail 42K followed by the overall award ceremony where 27 medals and World Titles were assigned.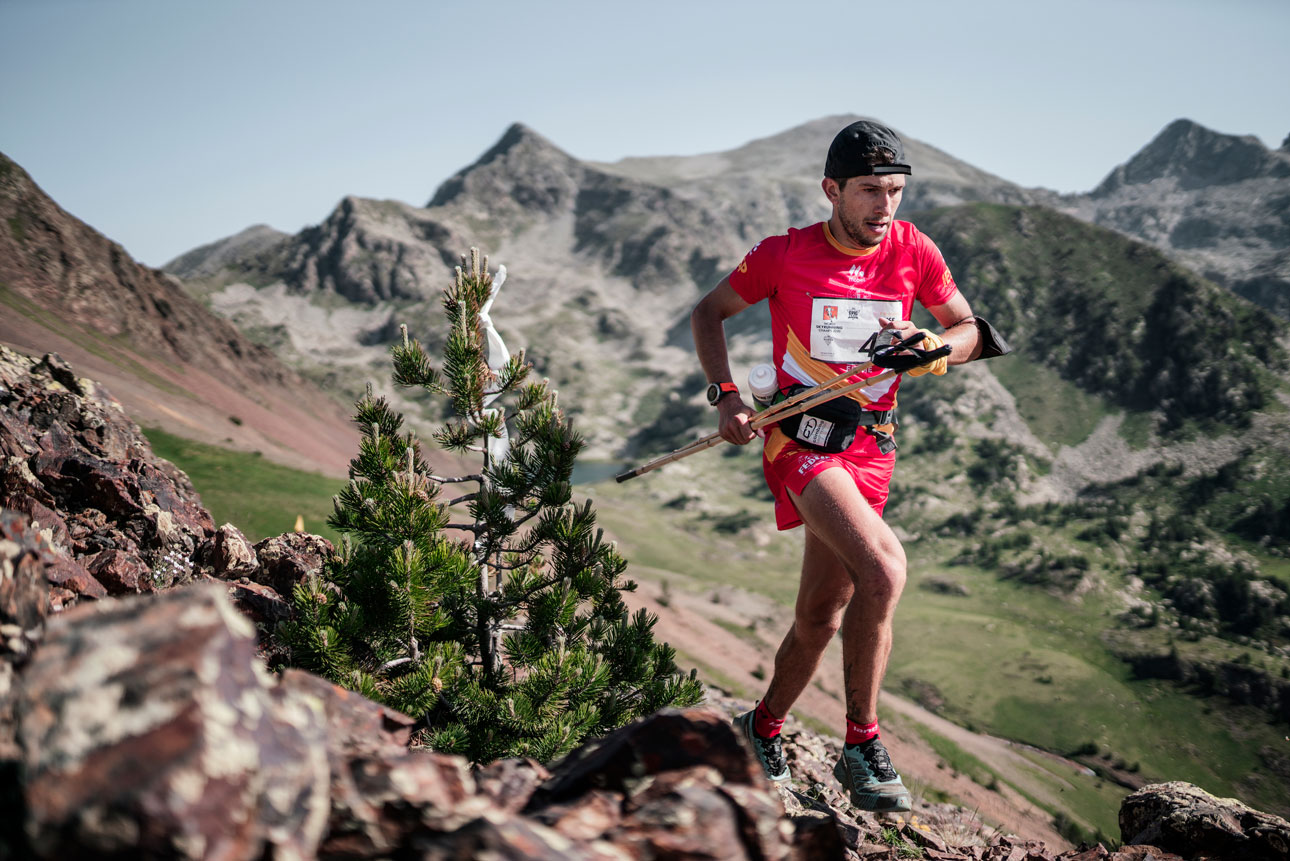 The gold medals for today's race went to Spain's Manuel Merillas who set a new record in 4h00'13", and to Marcela Vasinova from the Czech Republic who closed in 4h50'24".
Merillas, stated, "I was second behind Ruy until the second climb, then I accelerated. I knew the second downhill was technical, so I took a few more minutes then pushed all the way to the end." After such an effort he said he felt normal, "the result of thousands of hours of training. It will take some time to realise what I have achieved!" he added.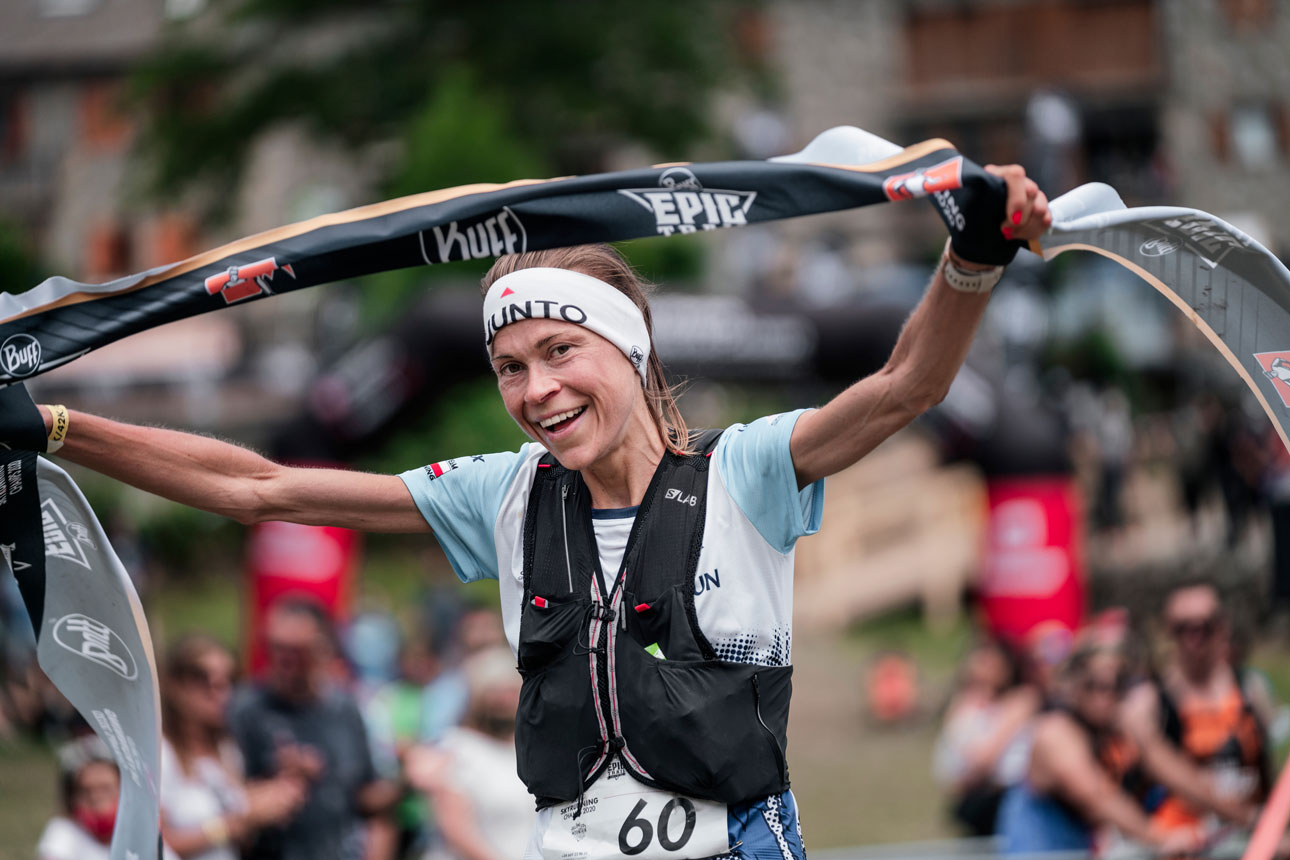 Vasinova was first in today's SKY and first in Friday's VERTICAL, where her outstanding performance earned her a total of three gold medals including the Combined based on the sum of these two races. Commenting on her performance, Vasinova said, "I'm more than happy. It was completely unexpected. I like running on hills. The first part was too runnable, so I was suffering, but then it became real skyrunning so that's when I liked it!" Evidently, a winning recipe.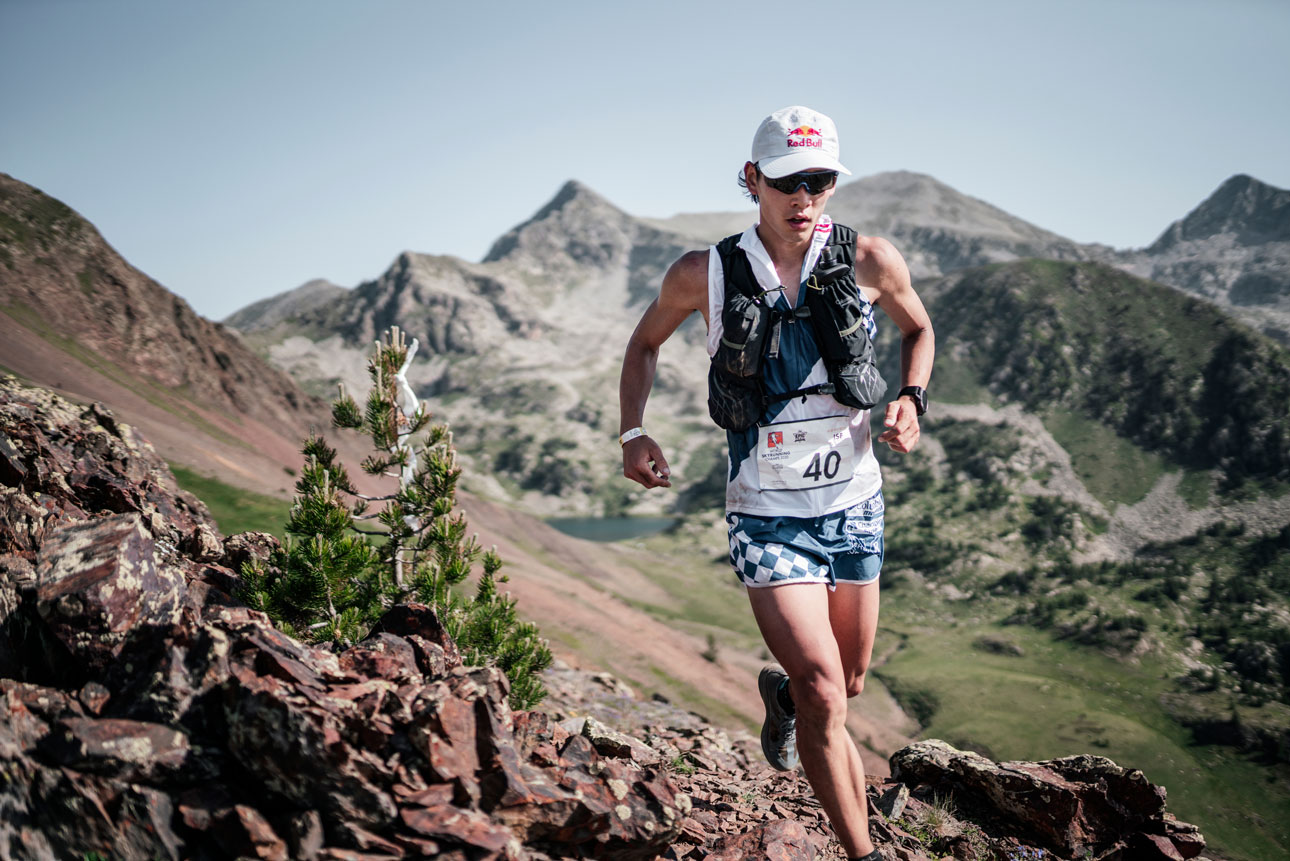 The Combined men's gold medal went to Japan's Ruy Ueda, who placed first in the VERTICAL and third in today's SKY. Ueda, after two failed attempts at the World Championships, displayed his three medals with pride and joy. "I did my best and had to test my strength with my mind, but my body didn't respond. I'm very happy now because I finally got a gold medal, three in fact! I'm happy to have played a part in the history of skyrunning for Japan."
After a year's postponement, the joy of competing again and battling for a medal ran high. Temperatures ran high too, not just due to the hot weather, but the strong competition which pushed the athletes to their limits. Host country Spain, representing the greatest following of the sport and some of its greatest champions, came out on top again with no less than twelve medals.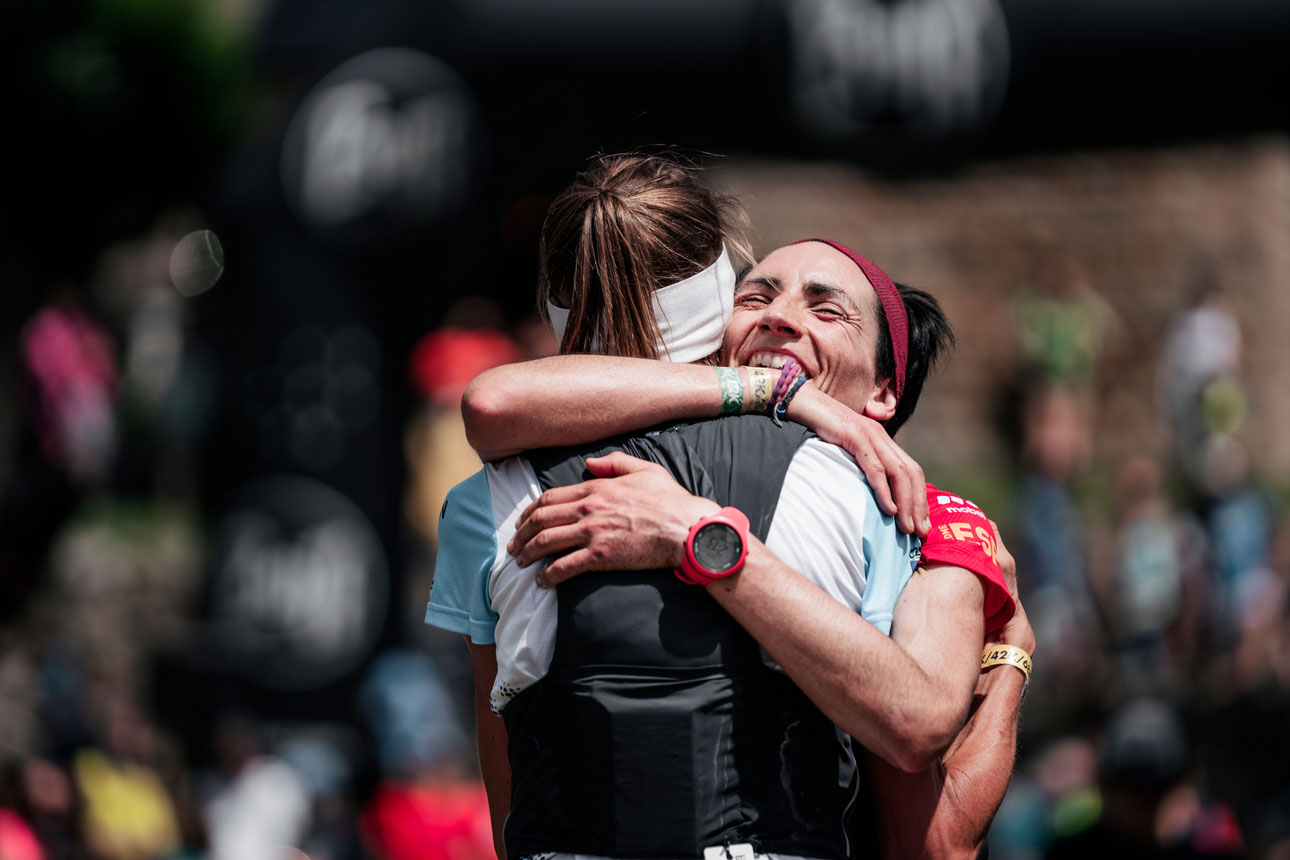 Spain's Oihana Kortazar took three silver medals placing second in the VERTICAL, SKY AND Combined. "That was a very important race! It's not every day you run a world championship," she stated. "In the first half I was really tired as I hadn't recovered too well from the Vertical but then at km 20, I felt better. I couldn't catch Marcela but I'm super happy with the second position!"
A total of 22 countries finally participated in the Championships, a reduced number due to Covid travel restrictions. For the first time, teams from Bolivia, Canada, Costa Rica, Cyprus, Guatemala, North Macedonia and Peru participated in a Skyrunning World Championship, highlighting the spread of skyrunning to new countries and the passion of new athletes ready to test their skills on the international stage with the best.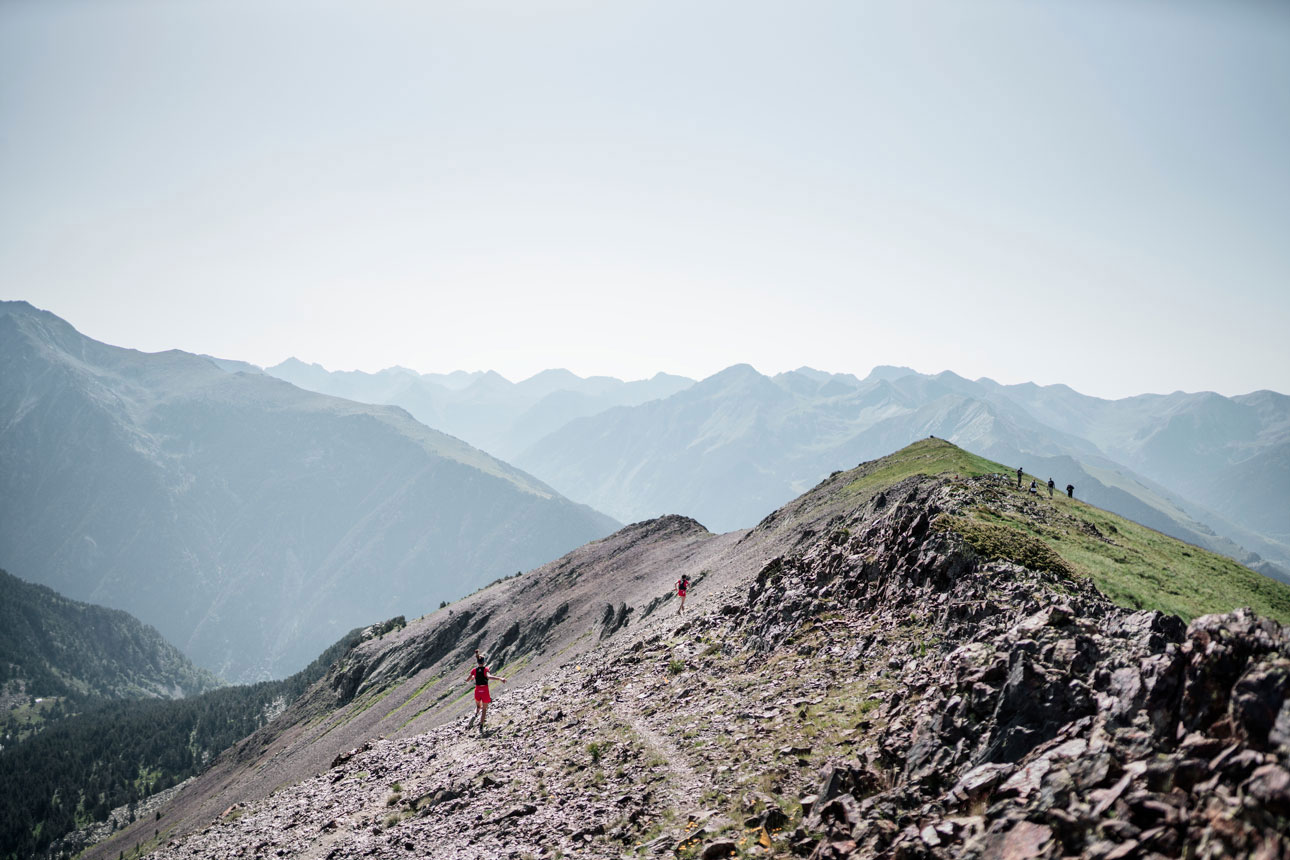 Marino Giacometti, ISF President, who awarded the medals, stated, "Today, everyone was a winner. I'd like to thank all participants for coming here, despite the difficulties, as well as the exemplary organisation by OCI Sport, who managed the events and health protocols together with FEDME for the anti-doping controls and sanctioning this world-class event."
Results of the Buff Epic Trail 42K (SKY)
Men
Manuel Merillas (ESP) – 4h00'13"
Christian Mathys (SUI) – 4h06'46"
Ruy Ueda (JPN) – 4h10'51"
Zaid Ait Malek (ESP) – 4h18'23"
Mattia Tanara (ITA) – 4h18'42"
Women
Marcela Vasinova (CZE) – 4h50'24"
Oihana Kortazar Aranzeta (ESP) – 4h57'48"
Marta Molist Codina (ESP) – 5h03'37"
Patricia Pineda Cornejo (ESP) – 5h03'36"
Emily Schmitz (USA) – 5h23'39"
World titles and 27 medals were awarded to Individuals and Official Teams as well as a Combined title based on the best results of the VERTICAL and SKY races.
Spain took home a total of 12 medals. Gold medals were awarded to Spain, Andorra, Czech Republic and Japan. France, Italy, Sweden and Switzerland were also awarded medals.
The Country Team ranking is based on the individual points accrued by the top four athletes (at least one per gender) in each race.
The bi-ennial World Championships celebrated their sixth edition, the third after in this spectacular natural arena surrounded by 3,000m peaks and 200 mountain lakes. Rich in cultural history, it is also a UNESCO World Heritage site.
The Skyrunning World Championships were held at the Buff Mountain Festival where some 4,000 participants took part in collateral events over the weekend.